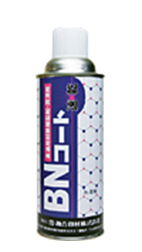 BN-COAT
To be upper heat resistant lubricant and mold release agents with oil-based binder as boron nitride. It has excellent performance even in harsh conditions because heat resistance is 900℃, and resistance against chemical.
(Applications) diamond tools molding / die-casting release / glass molding sintered metal molding / improvement of adhesion of inserted heater rod lubrication under ultra-high temperature
Feature
Ingredients
Regulation

・Heat resistance 900℃
・Non-magnetic
・High thermal conductivity

Boron nitride powder
Binder
Solvents , Alcohol ,DME
Package:NET420ml 24cans/box
---

ET DICE Ⅱ
It is a mold release agent for aluminum casting that has improved heat resistance by blending graphite with aluminum powder. It can be applied more evenly than with a brush, and it can reduce wasting during production. Especially suitable for precision molds.
(Applications) aluminum casting / diamond tools molding / die-casting release / lubrication under ultra-high temperature
Feature
Ingredients
Regulation

・Heat resistance 600℃
・Wet at low temperature
・Dry at high temperature

Blending graphite
Aluminum powder
Binder,Mineral oil
Solvents,DME
Package:NET420ml 24cans/box
---